R19 Isokinetic machine for scapulohumeral belt rotation
DIMENSIONS: 120 X 130 X 205 CM
PLATE LOAD: 10 X 10 KG / 5 X 5 KG TOTAL WEIGHT: 280 KG
Description
SCAPULO – HUMERAL BELT
SCAPULA ABDUCTION / ADDUCTION & EXTERNAL SHOULDER ROTATION IN HORIZONTAL ABDUCTION AT 90 °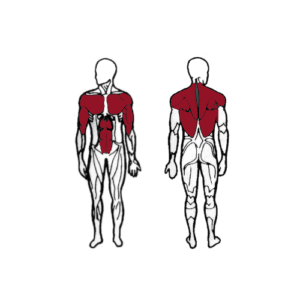 MAIN MUSCLES: SUBSPINE, POSTERIOR DELTOID, SMALL ROUND / LARGE PECTORAL, LARGE DORSAL, LARGE ROUND.
ACCESSORY MUSCLES: SUBSCAPULAR, ANTERIOR DELTOID.
Procedures:
Internal rotation of the shoulder
External rotation of the shoulder
Shoulder arm flexion can be done from full pre-stretch to maximum flexion. The adjustable backrest and seat height allow positioning in line with the axis of rotation.
The movement can be limited in a concentric and eccentric direction (it is possible to form the segmental movement).
The actuating arm of the isokinetic machine is balanced by counterweight. As a result, the movement can be controlled easily and precisely.