R5 Isokinetic machine for raising / lowering the scapulohumeral belt
R5
PASSIVE STATE DIMENSIONS: 200 X 1130 X 196 CM
ACTIVE SETTING DIMENSION: 200 X 1150 X 196 CM
PLATE LOAD: 10 X 10 KG / 5 X 5 KG TOTAL WEIGHT: 380 KG
Description
SCAPULO – HUMERAL BELT
SCAPULO – HUMERAL LIFTING AND DOWNHILL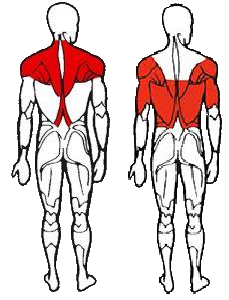 MAIN MUSCLES: UPPER KEYSTONE, ANGLE (SHOULDER LIFT) / LOWER KEYBOARD
Procedures:
Lifting the scapula
Lowering the scapula
Arm / triceps extension
The sequence of motion on this isokinetic machine is based on raising / lowering.
It is a complex pulling exercise that improves the spine and strengthens the trunk muscles.
The pressure on the vertebral joints is much reduced.
The control of the individual physiological position of the spine is safe, to this contributes the sitting position and the special angle of the backrest. The safe positioning of the patient ensures the simplification of the exercise.