R17 Dorso-lumbar Isokinetic Machine – Trunk Tilt
PASSIVE STATE DIMENSIONS: 180 X 140 X 196 CM
ACTIVE SETTING DIMENSION: 190 X 160 X 196 CM
PLATE LOAD: 10 X 9 + 5 X 5 + 5 X 3 KG TOTAL WEIGHT: 320 KG
Description
BACK – LUMBAR COLUMN
TILT TILT

MAIN MUSCLES: ABDOMINAL INTERNAL AND EXTERNAL OBLIGATIONS
ACCESSORY MUSCLES: ABDOMINAL RIGHTS
Procedures: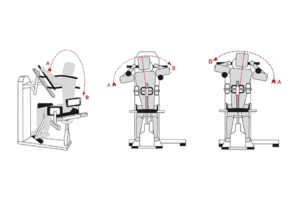 The height of the seat and the dimensions of the rear support can be adjusted independently, thus compensating for differences in anthropometric rules in terms of body size and leg length.
According to the latest measurements, the starting position is safer than ever, because no more load is placed on the intervertebral discs than on the legs.
The isokinetic machine is easy for patients to use. The control settings allow the patient to find his own adjustment levers.