R7 Isokinetic machine for dorso-lumbar spine – Trunk rotation
PASSIVE STATE DIMENSIONS: 150 X 105 X 196 CM
ACTIVE SETTING DIMENSION: 150 X 120 X 196 CM
PLATE LOAD: 5X3 + 10X5 KG
TOTAL WEIGHT: 270 KG
Description
BACK – LUMBAR COLUMN
TRUNK ROTATION

MAIN MUSCLES: ABDOMINAL INTERNAL AND EXTERNAL OBLIGATIONS
Procedures: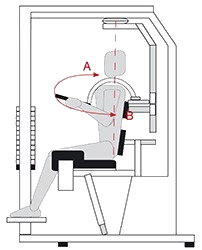 The special function of this isokinetic machine is to treat the deep muscles of the back (static muscles).
To date, science has not determined the genesis of back pain in all its diversity and manifestation. The causes are diverse and range from a genetic disease to traumatic injuries.
Although isolated one-dimensional exercises of the back muscles lead to a muscular improvement in the directions of flexion and extension, the safety of the joints of the spine is largely determined by their three-dimensional stabilization (flexion, extension, rotation).